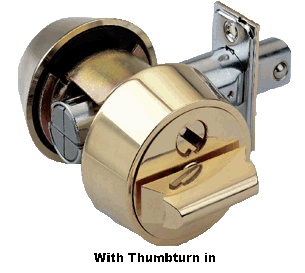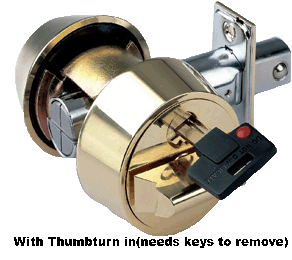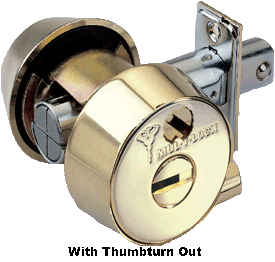 By Frank Fourchalk
Question: My husband and I own a store-front business. We have a commercial glass door with a key on the inside as well as the outside for security reasons. The fire department recently did a fire inspection and told us to remove the keyed lock on the inside of the door and replace it with a thumb turn. Is there any way of securing our door while appeasing the fire department?
Fourchalk: Yes, you could install a removable thumb turn on the inside of your door. This is a keyed mortise cylinder that holds a thumb turn captive unless removed with a small tool. The idea would be to leave the thumb turn in the door during working hours for fire safety and remove it at the end of the day to assure greater physical security to your business.
*TIP*
from Lee Alderman
National Account Manager
Always Affordable Locksmiths Ltd
We also have a Removable Thumbturn for residential.
The Captive Key functions as a hybrid of a Single Cylinder, and Double Cylinder Deadbolt.
The inside part of the Hecular incorporates two cylinders. When the user wants the Hercular to act as a Single Cylinder Deadbolt they will insert a special key with a thumbturn attached to it, into the central cylinder. There is a piece inside which locks the thumbturn into the lock itself. This way it will give the user the safety of being able exit the door without having to search for a key.
When the user would like to convert the Hercular into a Double Cylinder application, they will simply insert their normal key into the other cylinder on the inside portion of the Hercular, turn, and the thumbturn key will be removed. This will make the Hercular into a Double Cylinder Deadbolt, and give the user the security of Double Sided Locking.