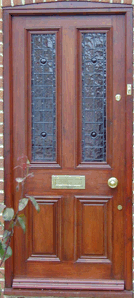 By Frank FourchalkQuestion: I have a very unusual problem with my apartment lock. Sometimes it locks and unlocks smoothly and other times I can hardly open my door. What causes this strange problem?
Fourchalk: Check to see if the lock works smoothly when the door is open. If it does, it is not a lock problem. The problem could be the alignment of the bolt and strike plate. You may need to tighten the hinges to pull the door back up into position or file a little off the strike plate to allow the bolt to enter smoothly.
Keep in mind that wooden doors and frames will warp and swell with temperature and humidity changes, while metal doors and frames have a tendency to twist with age. You should call in a carpenter to assess the problem.