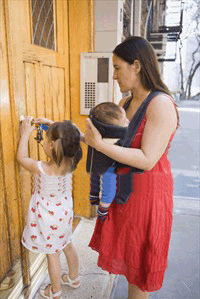 By Frank Fourchalk
With more and more mothers rejoining the work force and the number of single-parent families increasing, "latch-key kids" has become a household name. Because of this, parents must educate their children on the importance of staying safe and secure in the comfort of their own home.
Creating a safe home for children begins with contacting your local security professional and making sure that you have all the proper locks on your doors and windows. He or she will point out other security deficiencies such as weak doors, frames and even overgrown shrubs. Items like wide-angle door viewers installed at junior's eye level are sure to be on the recommendation list.
Good home security starts with something as simple as a house key. Youngsters must keep their house key with them at all times, making sure not to leave it under the mat or near the home. Never attach your child's name and address to their house key. If they lose their key, give them strict instructions to phone you or a trustworthy neighbor immediately.
Take your children on a walk through the house making sure that they know how to operate all the window locks, door locks, and home security systems correctly. Teach them to do a perimeter walk around the house before entering, checking for possible signs of an intrusion. Once they have entered, they should re-lock the door immediately.
Children should not open the door to anyone that they don't know. Prepare a list of people that may be admitted. If they must open the door, make sure that they look through the door viewer or glass window to confirm who it is. If a stranger tries to break in or won't go away, have your child call 911.
Answering the phone must be handled by a mature child. They should never tell the caller that they are home alone. It's better to say that, "My parents are busy right now," and take a message. And it goes without saying that frightening calls should be reported to a parent or back-up person immediately for assessment.
The responsibility ultimately falls on the shoulders of the parents. Parents must decide whether their child is ready to accept the responsibility in making safe and secure decisions when protecting themselves and their home. There really is no magic age or formula to determine if a child is ready for responsibility, but it's always a good idea to check with the local police department and ask about the laws for your province or state regarding children being left alone. Your child may not be legally old enough to be left alone or legally supervise a younger child.