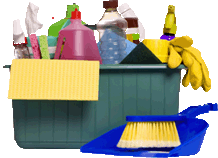 Question:
We have recently hired a cleaning company to clean our home once a week while we are at work. We gave them a key to our home because we couldn't be there at the time when the cleaning crew arrived. They are a bonded and insured company, however we feel uneasy about going away on weekends and holidays knowing our house key is out there. Is there anything we can do to help make our home more secure?
Fourchalk: You should re-key your home. Then, don't give your new (household) key to your cleaning company.
Next, install a second deadbolt in an entry door. This is the only deadbolt that your household cleaners should have a key to (cleaning key). When you leave for work, simply make sure that you only lock the cleaning company deadbolt on your entry door to ensure that they can gain entry. When you want to lock them out, lock the household deadbolt on your entry door as well as all other household locks.
If your budget allows you may also consider an alarm system. Separate security codes can be assigned to individual people to help monitor the situation.