No removal or disassembly of the cylinder is required. Simply insert and turn a key to permanently change the cylinder to a new combination and nullify the previous key up to two times.

This cylinder offers you the ability to change a lock combination all on your own. Lost keys or any circumstances that might require a user to immediately change a lock combination are easily resolved by 3in1 cylinder.

3in1 Cylinder Benefits:
Control - User has full control over their ability to instantly alter a cylinders combination

Freedom - No need to await re-keying in an emergency situation

Savings - No re-keying labor or costs, change is instantly achieved with the turn of a key

Value - Authorized Mul-t-Lock dealers can easily reset to 3in1 keying once all changes are used

Simplicity - User-friendly, easy to install and fully mechanical with no complex software or expensive electronics
FLEX Control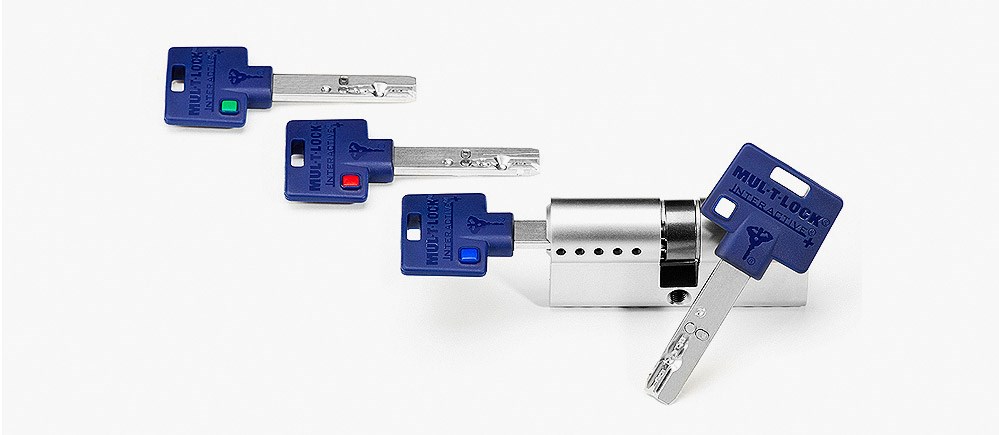 Just because you want to give someone access to your home or business some of the time, doesn't mean you want them to have access all of the time.
Combining convenience with simplicity, the FleX Control cylinder gives you the ability to control entrance access with an easy-to-use, mechanical solution.

With every FleX Control cylinder you'll receive a set of four color-coded keys.

The white one is for anyone you want to have full-time access, such as you and your family members or key employees, and the bluekey is for those you want to have limited access and at the times you decide. Using the red and green keys allows you to control the blue key holder's access.

Get control with the FleX Control Cylinder:
Provide access when and to whom you want to, and then limit it when you don't

Ideal for use with domestic staff, temporary workers and even full-time employees

Simple to use and install – no wiring, software or expensive electronic systems